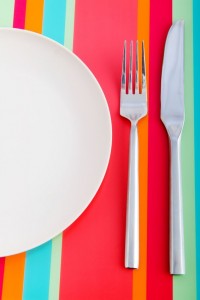 How many times should you eat in a day ?  The frequency and the timings of meals that is ideal and perfect for overall health has been debated over the years. Although Indians are more used to eating three square meals a day , there are some studies that have found it may be a better idea to eat smaller, more frequent meals. There are mixed reports about the efficacy of such a plan, some of the research indicates that eating 5 to 6 mini meals a day helps to regulate blood sugar, keep the energy levels high, stabilize moods and boost your metabolism and helps to avoid over eating.
 Our digestive system will not get overloaded with too much food at a time and can work more efficiently this way. The only condition is of course that the mini meal plan has to be nutritious and well balanced with the right proportion of protein, fiber, carbohydrates and fats.
 You can plan to eat every 3 hours or so. Presuming that your day is 15 hours long (7am to 10pm), you can plan for 5 mini meals per day. Eating 5 to 6 meals may be a challenge for those who are working but is possible if you put some thought to it.
1) Breakfast ideas (7am to 8am) – Cereal or oatmeal with soy milk/milk and a slice of any seasonal fruit; one slice of whole grain toast with a boiled egg and a slice of fruit; two idlis with vegetable sambar and mint/coriander chutney; two ragi or any other millet dosas with vegetable chutney; brown  poha made with vegetables and peanuts accompanied by chutney or yoghurt.
2) Mid-morning snack ideas (10.30am to 11.30am) – one small apple with 2 spoons of peanut butter; one orange or a banana or any other seasonal fruit; carrot sticks with hummus; handful of mixed nuts; yogurt with a slice of any fruit; one small granola bar or a piece of peanut or sesame chikki.
3) Lunch ideas (1.30pm to 2.30pm) – 2 phulkas with vegetable subzi, dal or lean chicken and salad; grind boiled channa or rajma or any lentil and mix it with your chapatti atta to increase protein content accompanied by a vegetable raita; 1 cup rice with vegetable sambar and salad or vegetable raita; mixed vegetable pulao made with brown rice and accompanied by yoghurt.
4) Evening snack ideas (4.30pm to 5pm) – crackers with peanut butter or a small piece of low fat cheese; any seasonal fruit; air popped popcorn; murmura with peanuts; a glass of buttermilk or juice; mixed sprouts.
5) Dinner ideas (7pm to 8pm) – 2 phulkas made with jowar/bajra/whole wheat with steamed or stir fried vegetables (you can toss some sesame seeds or almonds/peanuts for a healthy crunch), a cup of any dal and salad; a slice of whole grain bread with a hearty vegetable clear soup and lean chicken; one cup of unpolished rice with stir fried sprouts and salad.
Eating on time, and balancing out the meals with the right amount of nutrients is absolutely vital for the family's well-being.  It can be difficult to ensure timeliness or the nutrition quotient of every meal, given the stressed out lifestyle of today.
Calorie Care offers the perfect solution for those looking to manage their work life balance and ensure the nutrition needs of the family are met.   Designed down to the last detail by qualified nutritionists and chefs, each meal provides exactly what is should – balanced nutrition.  So go ahead and visit caloriecare.com for your hassle free nutrition route.
---