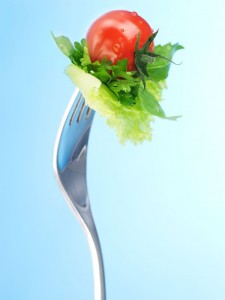 What is not to like about salads?  The easiest to make, the healthiest in terms of nutrition and the most creative part of the daily diet, salads tick all the right boxes.
Here are some interesting salads that you can toss for great health!
Cold potato mint salad
Ingredients
• 3/ 4 medium potatoes ( Boiled or baked in their jackets )
• 2 tablespoons lemon juice
• 2 tablespoons extra-virgin olive oil
• 1/2 teaspoon salt
• Freshly ground pepper, to taste
• 4 spring onions thinly sliced
• 1/4 cup chopped fresh mint
• 1 teaspoon Roasted and ground cumin
Preparation
1. Place potatoes in a large saucepan and cover with lightly salted water. Bring to a boil and cook until tender, 25 to 30 minutes. Drain and rinse with cold water. Transfer to a cutting board. Let cool for 20 minutes. Cut the cooled potatoes into 1/2-inch pieces. You can also bake the potatoes .
2. Whisk lemon juice, oil, salt and pepper and cumin powder in a large bowl. Add the potatoes and toss to coat. And refrigerate .
3. Just before serving, add spring onions and mint to the salad and toss gently.
Cucumber and chickpea salsa
Ingredients
• 3 tablespoons extra-virgin olive oil or 1 tablespoon any other refined oil
• 2 tablespoons lemon juice
• 1 teaspoons dried oregano
• Freshly ground pepper to taste
• 4 cups peeled and diced cucumbers
• ½ cup boiled chick peas,
• 2/3 cup diced red bell pepper
• 1/2 cup crumbled cottage cheese (paneer)
• 1/4 cup slivered onion
• 2 tablespoons chopped black olives (optional)
Preparation
Whisk oil, lemon juice, oregano and pepper in a large bowl until combined. Add cucumber, chick peas, bell pepper, cottage cheese , onion and olives; toss to coat. Serve at room temperature or chilled.
Tangy salad
Tomaotes – 2 cut into cubes
Spinach leaves torn into smaller pieces
Carrot – 1 small, cut into cubes
Lemon juice – 2 tbsp
1 tsp extra virgin olive oil
1 tbsp basil or tulsi leaves
Salt and pepper to taste
Chaat masala to taste
Method:  Steam carrots until soft .  Dip spinach leaves in hot water for a minute, remove and immediately put it in a bowl containing ice cold water. (do not overcook carrots and spinach).  Mix tomatoes, spinach, carrots, lemon juice, olive oil, salt and pepper .  Sprinkle chaat masala and basil leaves on top before serving.
Order your fresh salads crafted by nutrition and food experts at Calorie Care.   Fresh ingredients and attention to nutrition details make these truly nutrilicious!  Visit caloriecare.com for more options.
---